TIA:

In a letter sent to Fr. James Martin on May 8, 2022, Pope Francis said that the Catholic Church would become a sect if she would not accept homosexuals.
The Pope's letter was a response to three questions Fr. Martin sent to him on May 3, 2022, asking his opinion on topics related to the LGBT group.
One day before on May 2, 2022, the Jesuit had established his own website – Outreach – linked to the very progressivist Jesuit magazine America. On May 9, 2022, the website featured a photocopy of the papal letter with its translation to English. Below, we reproduce the page exactly as it was posted.
The fact that Pope Francis called a Church that rejects homosexuals "a sect" sets him against the bimillennial crystal clear Catholic teaching comdemning homosexuality and makes it very difficult for any Catholic to avoid affirming that, with this statement, Pope Francis incurred heresy.
In the photo above, we see Pope Bergoglio receiving Fr. James Martin in a private audience on September 30, 2019. Below, after the photocopy of Outreach, is another photo of Fr. Martin in the same audience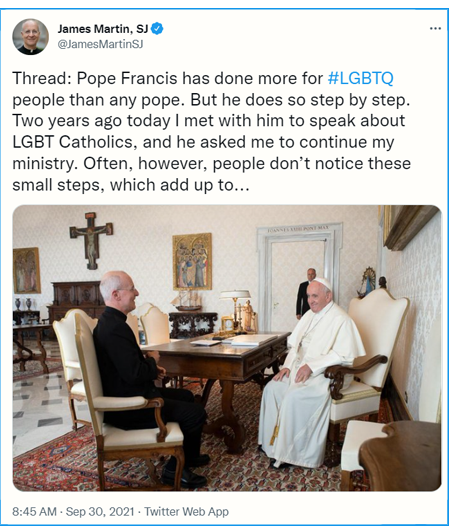 Galatians 1:9
As we have said before, so now I repeat, if anyone proclaims to you a gospel contrary to what you received, let that one be accursed!
Father Felix Sarda said: "The apostate priest is the first factor the devil are looking for his work in this rebellion. He need to present it in a way authorized in the eyes of the unwary, and no use for it as much as the endorsement of a minister of the Church. And, unfortunately, she never missing corrupt clerics in their habits, the most common way of heresy; or blind arrogance, also very common cause of all error..."