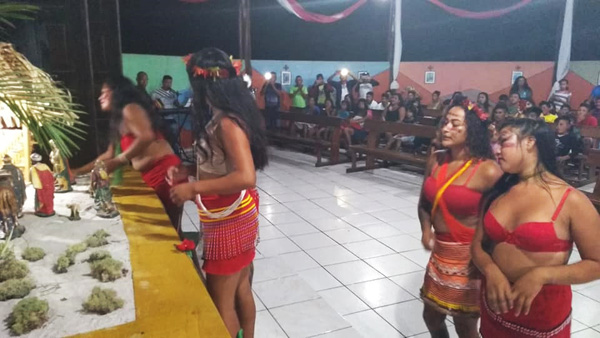 On this page you see photos of a Christmas adapted to the Indian style of the Amazonian tribes in North Brazil, State of Pará.
Above, young women bring the figures of the Manger to a front side table in the church in their provocative "modest" brassieres. When they are in the woods, they do not wear any upper garment; when they are at church they wear these sensual ones.
Below first row, one of these immodestly dressed women holds a baby as if she were Our Lady and a bare-torso man represents St. Joseph; a group of green palm camouflaged hunters replace the shepherds and three representatives of different tribes – a man and two women – kneel as if they were the Three Magi.
Third row, two women and a man hold two living jacarés, small crocodiles common to the area, which will be killed and cooked as part of the feast. While the food cooks, the attendees dance. Fourth row, a group photo of some participants in the show.
Last row,
Fray Obici stripped an image of
Our Lady Aparecida,
Patroness of Brazil, of her crown and mantle and proceeded to dress her in a feather headdress, a half skirt and some local adornments. This intentional desecration of the symbolic statue speaks loudly about the progressivist intentions.
The priest gave talks on Pope Francis' Exhortation Querida Amazonia to the local Indians to encourage them to practice inculturation and carry out this performance.
This ceremony gives us a glimpse of the future Francis is preparing for what is left of the Catholic Church.